Jakarta: Terrorism, human rights, legal affairs and corruption will take centre stage when President Joko "Jokowi" Widodo and his opponent Prabowo Subianto square off in the first presidential debate of 2019.
Tens of millions of Indonesians are expected to tune in for the debatel, which will also feature Widodo's running mate, the Islamic cleric Ma'ruf Amin, and Prabowo's offsider, former Jakarta deputy governor Sandiaga Uno.
Indonesian President Joko Widodo may be targeted for not making enough progress in tackling endemic corruption in Indonesia.CREDIT:GETTY
Both camps have indicated they will try to focus on the issues that matter to voters and their political programs – rather than ramping up political attacks on their opponents – but both sides have vulnerabilities that may be too tempting for the other to ignore.
Prabowo is still dogged by allegations of human rights abuses taking place when he was a military commander in East Timor, and alleged involvement in the kidnapping of activists during the 1998 reformasi demonstrations that led to the end of former president Suharto's long rule – charges he has always denied.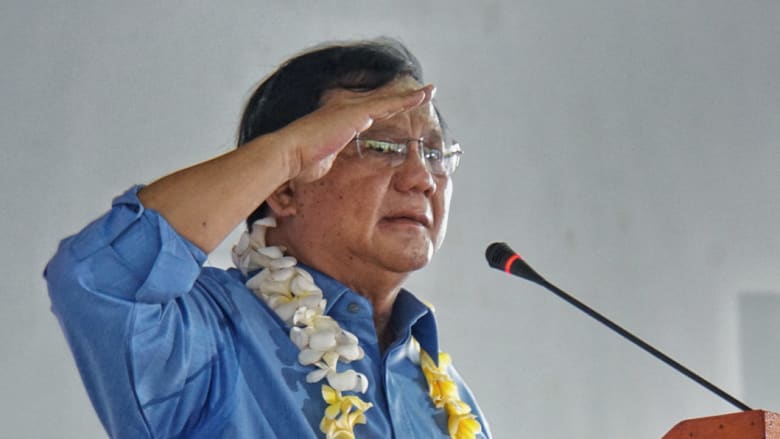 Prabowo Subianto will square off with Widodo in the first presidential debate of 2019.CREDIT:JAMES MASSOLA
The challenger, in turn, may target Widodo for not making enough progress in tackling endemic corruption in Indonesia.
Neither candidate had yet made big promises to tackle these issues, he said, but both had indicated their support for greater religious tolerance – a founding principle of Indonesia, but one that has been eroded by the rise of Islamism in recent years.
Prabowo-Sandi campaign spokesman Andre Rosiade flagged ahead of the debate the case of Novel Baswedan – an investigator with the respected Komisi Pemberantasan Korupsi (anti-corruption commission, or KPK) – who was attacked with hydrochloric acid in April 2017, and whose case remains unsolved, will likely be raised.
Rosiade said that "God willing, Prabowo and Sandi will solve it within 100 days [if they win the election] so that there will be legal certainty for KPK investigators that no more a group of thugs could terrorise KPK".
Rosiade claimed the shine had gone from the still-popular President.
"The most important thing is that Jokowi's magic has now gone. He is in fact nothing special; we've seen it in the last four years. He offered hope and how he has no more hope [to offer]," he said.
"We won't be attacking [Widodo and Amin]. We will only propose ideas for betterment."
Aria Bima, an official in the Jokowi-Ma'ruf Amin campaign team, said the President and his running mate would focus on the goverment's achievments in the nearly five years since the last election, and their plans for the future.
"We will say, you said that building infrastructure is not important, we will explain that it is not the case, that infrastructure is important. They [Prabowo] said that Indonesia will be extinct one day [an infamous claim made by the candidate in a 2018 speech], we will explain the fact that Indonesia is one among a handful of the most productive countries in the world. We want to build up a good spirit," he said.
Human Rights Watch Indonesia researcher Andreas Harsono suggested neither of the candidates were likely to criticise the other on how to tackle terrorism, but each could critique the other on human rights and corruption.
"What are the biggest human rights issues in Indonesia? According to several public surveys, there are three issues. One is religious violence and intolerance; the second is land grabbing for palm oil plantations and mining; and the third is discrimination against women – female genital mutilation, child marriages, and the mandatory wearing of hijabs [in some places]," he said.
Infrastructure investment, including in road, rail and housing, has been a major focus for Widodo in his first term.
If re-elected – Widodo leads Prabowo in reputable polls – the President's campaign team says he will focus on investment in human capital and look to spend more on schools, universities and health care in his second term.
Prabowo, for his part, has promised tax cuts (though few Indonesians actually pay tax) and programs to improve childhood nutrition so far. Further major promises are expected in the lead up to the Aprl 17 poll, when Indonesians will also vote for local members of parliament.