Daughter says the health of the 69-year-old Australian, who was sentenced to six years jail, is failing and he could die in prison
James Ricketson speaks from a prisoner van outside court in Phnom Penh on Friday after he was sentenced to six years' jail. Photograph: Heng Sinith/AP
James Ricketson's daughter has pleaded with the Australian government and people to campaign for her father's release from a Cambodian prison, saying she is worried he will die in jail.
The jailed Australian film-maker – sentenced to six years in prison in a show trial during which no evidence supporting the charge of espionage made against him was presented – is in failing health in the Prey Sar prison in the capital, Phnom Penh.
A change.org petition from Roxanne Holmes has attracted nearly 100,000 signatures, calling on the Australian government to advocate for Ricketson's release.
"My Australian adopted dad, James Ricketson has the kindest heart – yet he's holed up in a Cambodian prison without even having committed a crime," the Sydney woman wrote.
"Unless the Australian government responds quickly, my innocent dad could die in jail. I'm petrified – every day matters now as he gets sicker.
"I'm so worried for dad's rapidly deteriorating health – he is almost 70, frail and squashed in a tiny cell with 140 others. It's so cramped, they have to take it in turns to lie down. Body lice are eating him alive."
Holmes said the new foreign affairs minister Marise Payne, "hasn't made up her mind" on her father's case.
"Dad was making a documentary about Australia's abused street kids when he adopted me and loved me as his own daughter. He saved my life.
"He was one of the first men in my life to show me kindness but now the Australian government has turned their back on him."
Holmes asked for members of the public to call parliamentarians and government offices asking for Australian intervention.
Payne said after Ricketson's conviction the Australian government would continue to provide him full consular assistance during this "particularly stressful time". She said there were still appeal avenues open to the Australian citizen.
"Mr Ricketson is subject to legal proceedings under Cambodian law and must now consider his response to the court's decision using the avenues open to him.
"The Australian government will consider what further appropriate support we can provide after that time."
Ricketson has 30 days from his conviction to lodge an appeal.
The 69-year-old award-winning film-maker and documentary maker has spent years in Cambodia over more than two decades. He was arrested after flying a drone over an opposition party political rally in June 2017.
That opposition party – the Cambodian National Rescue party – has since been banned by the increasingly autocratic prime minister of Cambodia, Hun Sen, who has ruled Cambodia for more than three decades.
Hun won an election in July that was marred by political violence against opponents of the government, and was widely dismissed as neither free nor fair. The EU said the result was "not legitimate" and the White House said the poll was "flawed".
His party has claimed a remarkable 125 out of 125 parliamentary seats from the poll, but several ambassadors, including from the US and the EU, have pointedly declined invitations to attend the resumption of parliament on Wednesday.
Australia will also boycott. A spokesperson for the Department of Foreign Affairs and Trade told the Guardian: "Given Australia's views on the flawed election process, Australia will not be represented at the inauguration of Cambodia's National Assembly on 5 September."
At his trial, prosecutors said Ricketson used journalism as a front for spying and accused him of treason, saying he planned to overthrow Hun and illegally give information to foreign governments.
Prosecutors did not name the countries he was alleged to have colluded with, despite Ricketson repeatedly asking them to do so.
The Australian government has been accused of failing to advocate strongly enough for Ricketson's release, particularly as the farcical nature of his trial became apparent.
Australia has a controversial refugee resettlement deal with Cambodia, under which Australia gave Hun's government $40m in additional aid, with up to $15m more in resettlement support payments, in exchange for resettling refugees from Australia's offshore processing regime on Nauru.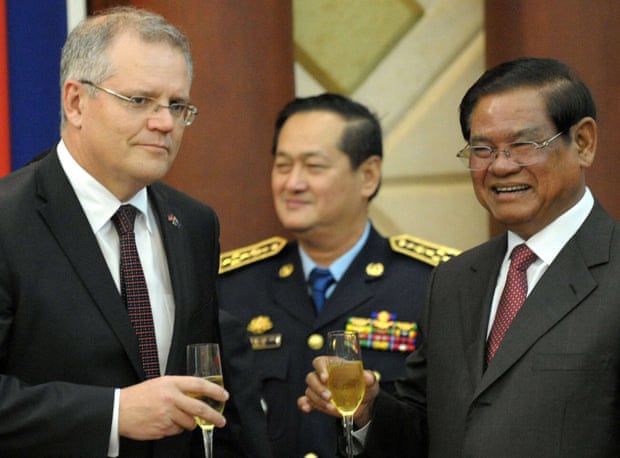 Scott Morrison and a senior Cambodian minister, Sar Kheng, raise a toast at a signing ceremony for refugee resettlement in Phnom Penh in 2014. Photograph: Tang Chhin Sothy/AFP/Getty Images
The deal has been a one-sided failure: barely half a dozen refugees accepted resettlement and it's understood only two remain in Cambodia.
Critics say Australia is compromised in its dealings with Cambodia by the deal, and any leverage it may have had with its Asean colleague is weakened.
Human Rights Watch's deputy Asia director, Phil Robertson, condemned the Australian government's "softly-quietly" approach towards Cambodia, arguing it was not only morally bankrupt but also entirely ineffective.
"The Australian government just let Cambodia walk all over them by failing to publicly and consistently challenge this ludicrous charade and demand Ricketson's immediate and unconditional release."
The journalist Peter Greste, who spent 400 days in an Egyptian prison on charges of news reporting "damaging to national security" before being released, said the Australian government had worked tirelessly to campaign for his freedom but, in Ricketson's case, it "clearly needed to do more".
"The Australian government insists that it's a defender of the basic democratic principles in the region, including things like rule of law, due process, basic human rights," he told the ABC.
"And if it wants to be taken seriously and with respect then it needs to forcefully stand by those values in cases like James's."
The Victorian Labor MP Julian Hill told parliament last month Australia must consider sanctions, visa restrictions and asset freezes against Cambodian regime members and their family members.
"Cambodia's government now behaves like a bunch of gangsters and thugs, ruling by fear and taking as much as they can," he said.
"If the world does not act now then Hun Sen is set to become the next Robert Mugabe, terrorising Cambodians for the rest of his life."